Local Pub for a Happening Nightlife
Arendell Room Bar is a downtown bar situated at 715 Arendell St., Morehead City. Sip and savor our specialty cocktails, large selections of vodka, tequila, bourbon, and whisky in our indoor bar with live music or at the warm and cozy outdoor bar. Stop by on your way home after a hearty meal or a stressful workday to enjoy the awesome nightlife at your favorite local pub.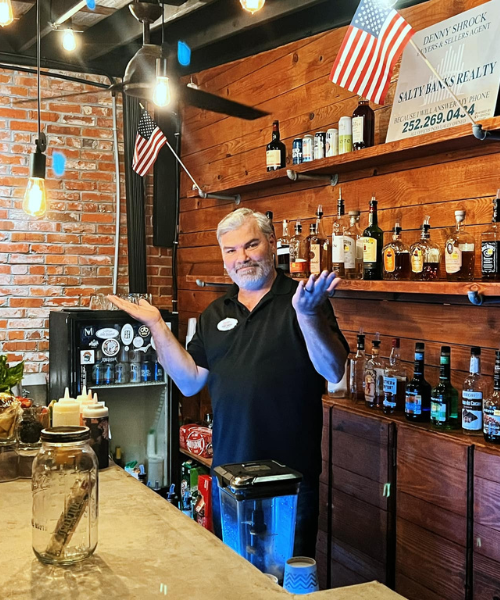 Specialty Drinks, Happening Environment & Live Music
Relax and destress with a glass of our specialty cocktails or your favorite brew in the happening indoor bar or cozy outdoor bar while our DJ sets the mood with a reviving tune.
Original Award-Winning Cocktails
Want to try something new? Taste our original creation infused with local ingredients and a dash of your favorite brew.
Not in the mood for something fancy? Our bartenders are ready to whip up a glass of your favorite classic cocktail.
Enjoy a pint of your favorite bubbly brew in the cozy and warm outdoor bar. We have a selection of beers sourced from North Carolina.
Nothing soothes our mood quite like a glass of fine wine or a classic bourbon on a stressful day. We have a selection of wine and a wide selection of bourbon.
Do you want to make your evening more happening with a nice buzz? Check out our wide selection of tequila.
Savor a glass of whisky on your way home after a nice dinner. You will get to pick from our wide selection of whiskies.
Michael Harvey
2022-07-19
This place is awesome. They have great custom cocktails. One of their best items is Bartender's Choice. You tell them what you like and they make something just for you. I visited on a slow day, so I got to know the bartender. They are super knowledgeable and friendly.
Best cocktails around and friendly staff, too! Nice new rooftop bar.
If you're in Morehead City and need a place to relax and have an impressive mixed drink Arendell Room is the place to go. Denny knows his stuff! He taught my friends and I all about vodka one time we were there. We did a taste test and he explained how some Vodka companies have more marketing dollars than others. And he showed us which ones taste the best etc. The atmosphere in AR is so unique. Brick exposed walls with all the bottles lit up on the wall make it easy to decide what drink to choose. If you are indecisive Denny will ask you a few questions of what you typically drink and he'll whip you up a special cocktail just for you! If you want to impress you date, AR is the place!
My favorite bar ever, literally the best staff, absolute best fresh drinks, great atmosphere, they are "drink machines" when slammed 3 people deep and still 'fast as they can' service, the bathrooms are top notch, outdoor bar is a great option when open and have you seen the upper deck?! Great low key spot to sip and talk about the day.
Denny makes the BEST cocktails, he is the Master Bartender! ⭐️⭐️⭐️⭐️⭐️
Best place on the waterfront for a fine craft cocktail and low key good vibe environment.
michael Parise
2022-07-13
Pretty nice place fast service and good drinks
Went there on a Saturday evening for a drink with some friends. I got a great drink with cucumber in it. That thing was so fresh and crisp tasting. Could have had a couple of them. Only thing is, the place is a tight fit, especially in front of the bar. Barely fit 2 people side to side while walking down. Also, the bathrooms weren't labeled and one of the doors had a broken lock. So you had to find the mystery bathrooms, with sliding doors. Then had to have a friend hold the door closed while I went.
Every Friday and Saturday, Arendell Room Bar hosts a live music bash where a professional DJ spins groovy tunes and our bartenders prepare the best drinks for a rocking evening with your friends.